Nashoba Learning Group (NLG) provides comprehensive services to children from 3 to 22 years old. Our students demonstrate a wide range of strengths, challenges, and ability levels and each student's program is individualized to reflect the child's unique goals, learning style and motivation. NLG provides intensive one-on-one Applied Behavior Analysis (ABA) instruction for 30 hours each week. Instruction encompasses language, communication, and social skills, academic curriculum, in areas such as reading, math, social studies, and science, and self-help and community skills. Once a student reaches the age of 14, they begin to focus on vocational skills, both within the school building and outside in the community.
We offer monthly clinic meetings with each student's family/caregivers to analyze and measure daily progress, along with monthly home consultation. The home consultation offers an additional opportunity to coordinate skill-building between home and school.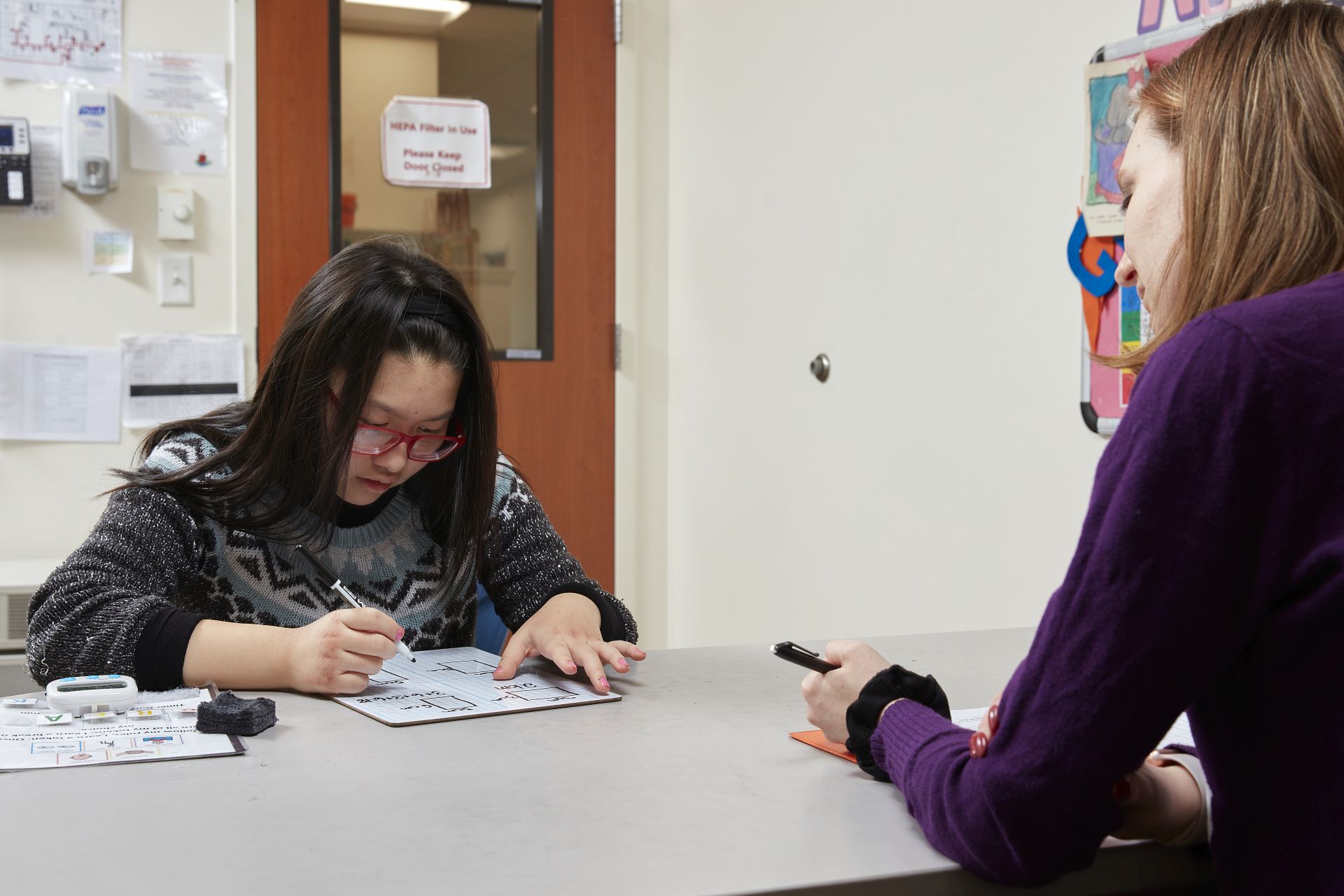 Generally, our admissions process begins with a referral from the student's local school district. Parents and guardians are welcome to send additional information and are invited to join one of our monthly group tours of the program.
Once the admissions team has identified a potential or upcoming opening within one of our classrooms, referral packets are reviewed to determine which potential students might be the best fit for a specific classroom opening.
After reviewing the referral packets, if it is determined that a student is a potential fit for an opening, an observation of the student in their current classroom is scheduled with the home school district. If it is not possible to observe the student in their home district, or if additional information is needed after an initial observation, the potential student may be invited to visit NLG and work with Clinical Director(s) within the school building. The parents/guardians of the prospective student will also be invited to visit the program and meet with staff.
In some situations, the parents/guardians of a prospective student may reach out to begin the admissions process independently of the school district, if they intend to privately pay the school tuition.
If you are interested in learning more about our admissions process or program, please contact Robyn Stewart.
Speech and Language, Occupational Therapy, Physical Therapy
Our Speech and Language Pathologists, Occupational Therapists, and Physical Therapists provide regular consultation and training to each student's team, as part of a comprehensive and integrated program model to build skills in various settings like school, home, and work. They develop individualized goals and programming to match each student's learning needs, including augmentative and alternative communication (AAC).
Nursing
Our nursing clinic provides real-need, immediate health services as well as a desensitization for health and dental care for our students while also preparing students to successfully attend appointments outside of school.
Community Access
Students access the community to increase their independence, by practicing a variety of daily living and safety skills, as well as caring for their health by attending medical appointments. They also participate in leisure and recreation activities in the community, which provides opportunities to practice self-regulation, appropriate behavior, and travel safety. Students may participate in outings to stores, banks, post offices, restaurants and other community locations. As part of the vocational program, students may travel to volunteer or employment sites.
Add Us To Your Google Calendar
See all school holidays and events automatically in your Google Calendar. Don't have a gmail account? It is easy to sign-up for a free one!